Why Clayton's Cafe for Catering?
Our catering services are great for parties, corporate events, gatherings, reunions; you name it!  Our platters are real crowd-pleasers, with fresh, high-quality ingredients assembled with love and care.  As with all our offerings, we want to provide you with the catering service we would want for our own parties and gatherings.  As such, you can count on our kitchen's best to make your next event a huge success!
Catering Guidelines
Please observe the following policies we have for catering. 
Catering is available for pick-up only; we do not offer delivery. 

We require a

minimum

of 24 hours' notice for sandwich platters, basic dessert platters, breakfast platters, basic deli salads, and green salads.  This means calling us two days ahead since we make everything fresh every morning!

We require a

minimum

of 3-days' notice for specialty deli salads,  special request soups, and special request desserts!

For large orders, due to the time requirements and constraints it places on our staff will automatically add a 10% gratuity to the bill.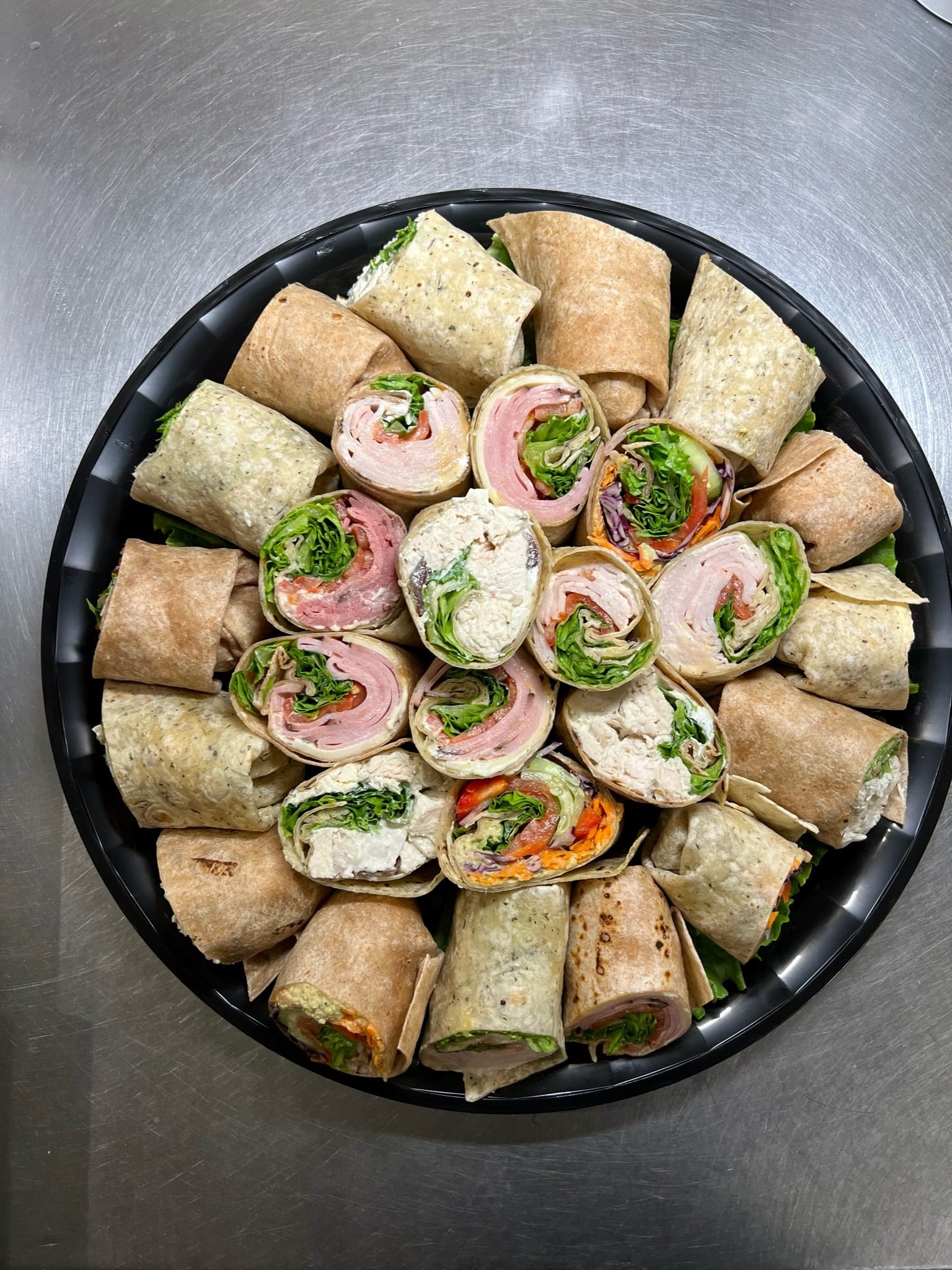 SYRIAN ROLL-UP PLATTERS 
An assortment of our most popular wraps, including famous chicken salad, ham and cheese, turkey, roast beef, and hummus. 
Large (27 individual finger sandwiches)………………………… $90.00 
Small (15 individual finger sandwiches) ………………………… $54.00
  Custom……………………….priced accordingly, plus a $3.00 platter fee 
DELI SALADS 
White Pasta and Red Bliss Potato Salad ……. $18.00 quart/$57.00 bowl 
Specialty Deli Salads……………………….. $20.00 quart/$63.00 bowl 
Fruit in Season ………………………………$23.00 quart/$72.00 bowl 
Daily selection varies. 3-quart minimum for special orders. 
Choices include: 
Broccoli and Cheese, Tomato-Cucumber and Feta, Greek Pasta, Fresh Beet Salad, Curry Rice Salad, Savory Bean Salad, Potato-Cheddar-Bacon, Waldorf Salad*, Sesame Sugar Snaps*, Fruit Salad* 
* Subject to seasonal availability 
Plate/Utensil/Napkin Setup ………………………………..add $.50 pp. 
CLAYTON'S CHICKEN SALADS 
Famous, Mediterranean, or Curry …………..$9.50 side $19.00 pint $38.00 quart 
SALADS 
Garden (mixed greens) Salad Catering Bowl …………………….$27.00 
Downeast & Greek Salad Catering Bowl ………………………… $36.00 
(Salads come with our balsamic vinaigrette) 
SOUP BY THE QUART 
$16.00 quart (Daily selection varies), 4-quart (1 gallon) minimum soup special order, 48-hour notice required! Popular choices include:  
Chowders
Clam, Buffalo Chicken, Chicken Corn 
Soups
Spinach Chicken Orzo, Tijuana Taco Soup,  Italian Wedding Soup, Beef Barley, Thai Peanut Chicken,  Sicilian Sausage and Mushroom, Split Pea and Ham, Southwestern Chicken and Black Bean, Gumbo, White Bean Chicken Chili, Rosemary Turkey Stew 
Vegetarian
Hungarian Mushroom, Split Pea and Carrot,  Roasted Garlic Potato, Tomato-Spinach Lentil, Fresh Basil Tomato, Mediterranean Vegetable Orzo, Curry Chick Pea and Vegetable, Roasted Butternut Squash,  Creamy Roasted Red Pepper Potato, Vegan Three Bean Chili,  Thai Peanut Broccoli, Gazpacho … and more! 
DESSERT PLATTERS 
Assorted Bars Platter (serves 15-20)….$45.00 gluten-free….$50.00 
BREAKFAST MUFFIN & SCONE PLATTERS 
Small (serves 10-12) ………………….$28.00 | Gluten-free….$32.00 
Large (serves 20-25) …………………$53.00 | Gluten-free….$58.00 
Some items are not always available. Prices are subject to change.
FOOD ALLERGIES:
While we strive to accommodate customers with special food needs, please be aware that Clayton's is a food establishment that uses and processes wheat, dairy, nuts, soy, and other products on a regular basis in kitchen operations involving shared cooking and preparation areas. Therefore, the possibility exists for food items to come in contact with each other, and we are unable to guarantee that any menu item can be completely free of allergens.